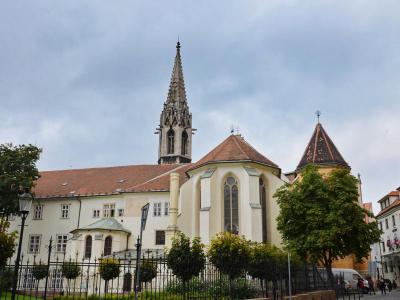 Bratislava Franciscan Church, Bratislava
Sanctified in 1297, the Franciscan Church is one of the oldest sacred buildings in Bratislava, Slovakia. Constructed by King Ladislaus IV of Hungary, the building has suffered several times in its history from natural disasters and fires, each time being reconstructed. The building was originally erected in the Gothic style.

However, with each reconstruction other architectural styles were infused into the structure. Over the years, the facility has been used for knighting ceremonies, funerals, meetings, elections and parliamentary sessions. The brick pillar altar of the church displays the statues of St. Stephan and St. Emeric along with an immense glass painting illustrating the Annunciation. Several altars border the main altar and are dedicated to numerous important ecclesiastical moments and people including, St. Anthony of Padua and St. Francis of Assisi, along with Our Lady of Sorrows and the Nativity.

The pulpit is a striking representation of the Rococo style with incredible relief sculptures portraying the life of St. Francis. Distinct to the church is the shrine of St. Reparat, who was a deacon and martyr and patron of those who want to make a positive change in their life. The torso of St. Reparat is contained in the reliquary.
Bratislava Franciscan Church on Map
Walking Tours in Bratislava, Slovakia