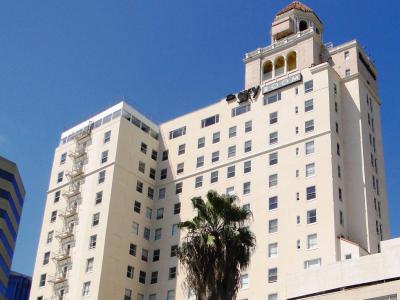 Breakers Hotel, Long Beach
Breakers Hotel is one of Long Beach's most iconic hotels. This building dates back to 1926, when it opened as a resort spa. The 14-story building enjoys Long Beach Historic Landmark status.

In the years immediately following the hotel's opening, the Breakers featured many of the top vaudeville artists of the time as entertainers, as well as a dining room seating 500, a Turkish bath, a rooftop garden, and a barbershop and coffeeshop.

Between 1929 and 1961, the Breakers changed hands and underwent financial issues that led to closure in 1964. Between 1967 and 1982, the hotel served as a retirement community, reverting to hotel use from 1986 to 1987 and serving as retirement housing again from 1997 to 2015. In 1989, the hotel received its Historic Landmark status.

In 1997, the Sky Room, with its 360-degree view, was restored and reopened. The Sky Room Orchestra, a jazz and swing band, has performed at this location, and the Sky Room has had a restaurant.

The Breakers changed ownership in 2017. There are plans underway to restore the building to a 185-room boutique hotel. This building offers excellent photo opportunities.
Walking Tours in Long Beach, California