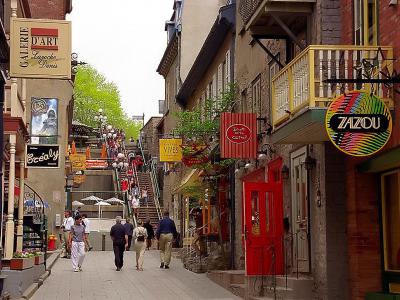 Breakneck Steps (L'Escalier Casse-Cou), Quebec City
(must see)
Linking Côte de la Montagne and Quartier Petit-Champlain, the legendary "Breakneck Steps" (Québec City's oldest stairway) dates back to around 1635 – but rest assured, you will not break your neck. The name dates back centuries to when the staircase was a narrower, steeper, wooden staircase that was eventually replaced with iron in the late 1800s (and actually designed by an engineer, which always helps!), only to be given another huge overhaul in the 1960s.

While not Québec City's longest staircase (Cap Blanc has about six times as many stairs), Escalier Casse-Cou is probably the city's most useful, having helped Québécois and tourist alike make their way back and forth between Haute-Ville (Upper Town) and Basse-ville (Lower Town) for centuries.

At the bottom, you'll find several boutiques, restaurants, the famed La Fudgerie, and, if your feet are tired or want an epic view, Funiculaire du Vieux-Québec can take you to Haute-Ville. On your way up or down, you'll find several boutiques and bistros, while at the top you will be amongst some of the city's greatest pieces of history: Le Château Frontenac, Place d'Arms, Montmorency Park National Historic Site, and Terrasse Dufferin (to name just a few).
Breakneck Steps (L'Escalier Casse-Cou) on Map
Walking Tours in Quebec City, Quebec