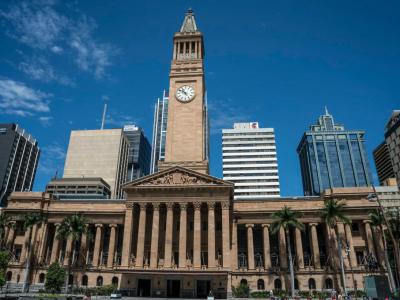 Brisbane City Hall and Museum of Brisbane, Brisbane
Brisbane City Hall is located in King George Square. The building is widely considered to be one of the most ornate and beautiful of Australia's city halls. The foundation stone of the building was laid in 1920 and construction was completed by 1930. For many years the hall was Brisbane's tallest building and to this day you can take the elevator to the top of the clock tower and get an impressive panoramic view over the city. The viewing platform is open 10am to 3pm every day, and there is no admission fee. The clock tower is 91 meters above the ground and was inspired by St. Mark's Campanile in Venice, Italy.

Built in the Italian Renaissance style, there is much to see in the building. Above the Corinthian columns at the entrance to the building is the ornately carved tympanum, which was carved by Sculptor Daphne Mayo in the 1930s. It features scenes of the settlement of Queensland with cattle drovers extending out into the lands filled with kangaroos. Inside there are many beautiful rooms, but the highlight is the main auditorium inspired by the Pantheon in Rome.

On the city hall's third floor, you will find the Museum of Brisbane which is dedicated to showcase the different facets, historical and contemporary, of this sub-tropical state capital city. You will find fascinating displays of all aspects of the city. The ethos of the museum is to guide visitors towards developing an understanding of Brisbane's people and communities and how they have worked together to create the city that you see today. It also encourages visitors to envisage the city that will become in the future.

The museum is open every day between 10am and 5pm, Fridays till 7 pm, and is only closed on Anzac Day and Christmas Day. Entry is free.
Brisbane City Hall and Museum of Brisbane on Map
Walking Tours in Brisbane, Australia