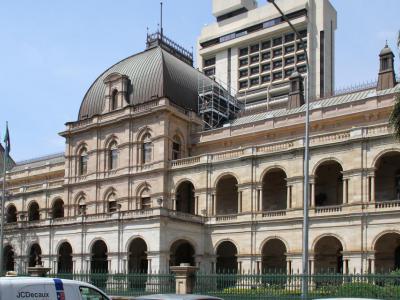 Brisbane Parliament House, Brisbane
Brisbane Parliament House is the seat of the Queensland State Parliament, which is a unicameral institution and the only parliament of its kind in Australia. Following the separation of Queensland from New South Wales in 1859, a grand building was ordered to be built. Robert Tiffin's design was selected in 1863 following an Australia wide competition. The French Renaissance style construction was inaugurated in 1868 although additions such as the colonnades were not completed until 1878.

When you enter the main entrance you are greeted by a Minton tile European imported foyer and grand staircase, which leads up to the Chambers and the Reading Room. In the Red Chamber, which was the Upper House until it was abolished in 1922, you find Waterford crystal chandeliers, which were presented to the parliament by Queen Victoria. Stained glass in both the Green and Red Chambers depict the monarch. On a Parliament House tour you can view the mace, which is a stunning gold and silver creation one meter long and weighing 7.7 kilograms. It features many Queensland opals and sapphires and is placed in the Green Chamber when the Parliament is in session. There are guided tours held every Saturday and Sunday between 10am and 2pm.
Brisbane Parliament House on Map
Walking Tours in Brisbane, Australia