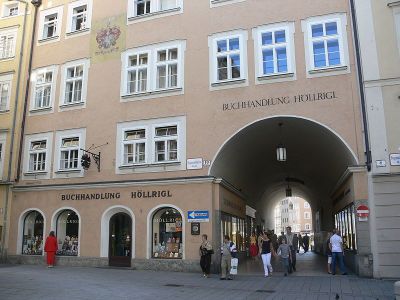 Buchhandlung Höllrigl (Höllrigl Bookstore), Salzburg
Located in the historic Ritzerbogenhaus building in Salzburg's Old Town, the Höllrigl Bookstore is Austria's oldest and the second oldest in the German-speaking world. Originally founded by Konrad Kürner in 1598, the store changed hands multiple times and was subsequently renamed. Despite this, it has managed to maintain its enchanting character and remains a haven for book lovers. The store features a painting of Archbishop Wolf Dietrich and his coat of arms, as well as his image on the price tags.

The bookstore offers an impressive selection of books, with a strong emphasis on Salzburg-related titles, and provides valuable recommendations to university students in the area. There is a dedicated room for travel literature, as well as a variety of other genres such as science, gardening, music, health, and art. Additionally, the store offers a wide range of audiobooks, children's and youth literature, and English-language books. A unique feature of the bookstore is the "Höllrigl Restseller" branch next door, which provides an extensive selection of special offers.

Opening Hours: Monday-Friday: 10:00 - 18:00, Saturday: 9:00 - 17:00, Sunday: closed.
Buchhandlung Höllrigl (Höllrigl Bookstore) on Map
Walking Tours in Salzburg, Austria