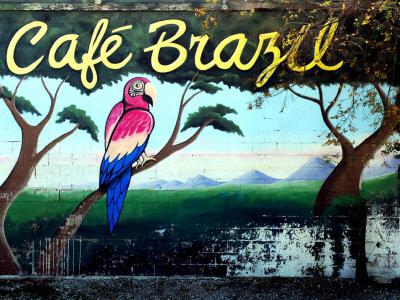 Cafe Brazil, Dallas
Brazilian colors paint the walls as you walk into this eclectic restaurant. When Cafe Brazil opened their Deep Ellum location, they picked Frank Campagna – "the father of Deep Ellum mural art" – to paint their building. After staying in place for twenty years, the mural had received a facelift by the man himself in 2014!

The menu is very interesting, with lots of healthy and comfort food options, and if you were to look at how many fruits and fresh foods are served, then it would be quite similar to Brazilian fare... except the dishes are actually Mexican- and Southern-inspired. However, they do have a large selection of Brazilian roasted coffee that really stands out, especially with the self-serve "all you can drink" station which is very smart indeed. No one tries to rush you out, and there's plenty of time for another cup!

Overall, this is a great relaxed spot, and did you know it's open 24/7?
Walking Tours in Dallas, Texas