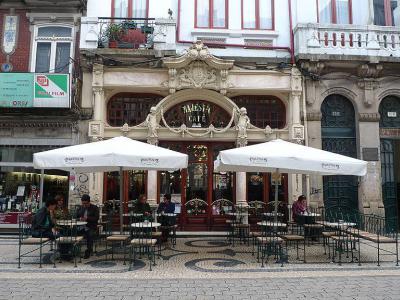 Café Majestic, Porto
It was 1921. Aviator Gago Coutinho had just flown in from the island of Madeira. He dropped in for a drink at the new Art Nouveau Cafe "Elite." He found himself in a chic crowd of artists and celebrities. They were observing the grand opening of the cafe. He became enchanted at the lavish splendor of the decor.

Later, the name of the cafe was changed to "Majestic." Everyone approved. The Majestic became a haunt for students and teachers from the Porto School of Fine Arts. Gago was impressed by gatherings that included the sculptor Jose Rodrigues, the philosopher Leonardo Coimbra, the painters Armando Alves, Angelo de Sousa and Jorge Pinheiro.

More recently, the Majestic book of honor has been signed by others, among them Mario Soares, Jorge Sampaio, Jaques Chirac and Cavaco Silva. Today the cafe continues on with poetry readings, concerts, exhibitions and performances. It is said author J.K. Rowling spent afternoons at the Majestic writing Harry Potter and the Philosopher's Stone.

Outside, the marble facade, decked out with twisting floral shapes and three graceful columns, invites travelers to enter. Inside, curved wooden frames and decorations capture attention. Stucco faces and nude figures emphasize sensuality.
Walking Tours in Porto, Portugal