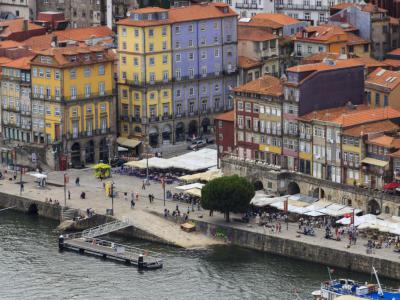 Cais da Ribeira (Ribeira Waterfront), Porto
(must see)
The origins of the settlement along the Ribeira is not really known. A riverside settlement developed near the confluence of the Vila River and the Douro River. Some Roman mosaics from the fourth century have been found in the area. The Ribeira grew along with Porto in the 13th century. Especially by the river and Penaventosa hill.

Two settlements arose. One on the escarpment of Penaventosa by Porto Cathedral. The other appeared below in Ribiera on the banks of the Douro River. Until the last decade of the 14th century the settlements were connected by a web of narrow, constricting streets difficult to move around in. A new street was needed to pierce the labyrinth.

On the initiative of John I a new street was opened. In fact, it was called "New Street" (Rua Nova). It was a perfect contrast to the tangled web of passageways of Porto. It was straight, and wide for its time. It became a prestigious address for the bourgeoisie, clergy and business.

The Ribeira district lures the visitor on. It is a captivating place of medieval streets and alleys ending in a busy waterfront square, the Ribeira Square. The remains of the 14th century wall run next to the Ribeira Wharf. Beyond this point are the steep twisted ways of the Barredo.

In the evenings clubs on the Ribeira Wharf promise a stimulating nightlife to romantic strollers. In days gone by the district alongside the Douro River was a center of lively commerce and business.

The Ribeira Square has many shops and cafes. At the northern part of the square is a huge fountain. The Ribeira Wharf starts on the west side of the Luis I Bridge and it follows the riverside to Ribeira Square.

There is an upper walkway where there are more shops and cafes. The walkway is what is left of the old city walls, once patrolled by medieval soldiers on watch. Sit down, have a drink and watch the river with them. Time glides by like the river.
Cais da Ribeira (Ribeira Waterfront) on Map
Walking Tours in Porto, Portugal