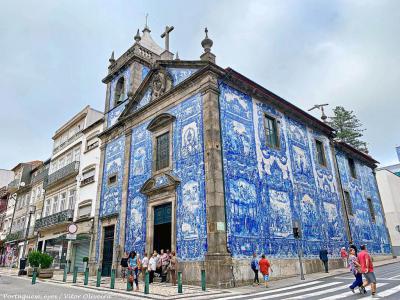 Capela das Almas (Chapel of Souls), Porto
(must see)
At the end of the eighteenth century the Brotherhood of Souls moved from the Monastery of Santa Clara to the chapel of Santa Catarina. The addition of the Brotherhood swelled the size of the Santa Catarina faction of devotees to the point where a new building was needed. The chapel therefore was expanded and restored in 1801.

The facade has a framed door under a circular pediment. A coat of arms is set on the tympanum showing St Francis of Assisi and Santa Catarina. The bell tower has two floors. On the first floor is a door with a window. The second floor has four windows and a balcony. Atop the dome is an iron cross.

The style of the church is basically neoclassical, but the church is noted for its covering of azulejo tiles. The tiles were made at the Viuva Lamego Ceramic Workshop in Lisbon. The 16,000 glowing blue and white tiles depict scenes from the lives of Saint Catherine and Saint Francis of Assisi.

The stained glass windows, made by Amandio Silva, show the souls in Purgatory washed with the redeeming blood of Christ. Inside the chapel is the 18th century image, Virgin of Souls. On the main altar is the large painting called "The Ascension of the Lord" by Joaquin Rafael, a professor of Fine Arts in Lisbon.

This is without a doubt, the most beautiful church in Porto. It must not be overlooked.
Capela das Almas (Chapel of Souls) on Map
Walking Tours in Porto, Portugal