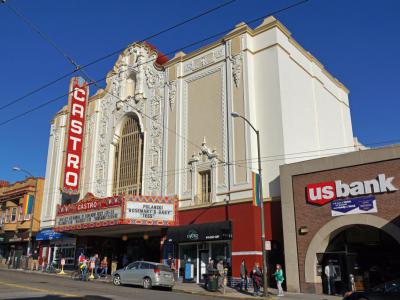 Castro Theater, San Francisco
The Castro Theater in San Francisco is a must-see attraction, whether you're a cinephile or not. This unique theater seamlessly combines elements of the past and present, creating an unforgettable experience. Step inside and be transported to a bygone era, surrounded by fascinating relics while enjoying the latest in audiovisual technology.

Recognized as one of San Francisco's Top 100 Historical Landmarks, the Castro Theater holds a special place in the city's history. It was constructed in 1922, masterfully designed by Timothy L. Pflueger and remains proudly owned by the Nasser Brothers to this day. The theater's opulent and intricate interiors, a rarity in today's cinemas, add to its grandeur. Back in 1922, it cost an estimated $300,000 to build, and it can accommodate an audience of 1407 people. Visitors from all walks of life flock to the Castro Theater to immerse themselves in the ultimate movie experience.

At the Castro Theater, you're encouraged to sing along, cheer, and engage with the crowd, becoming an active participant in the film. This interactive approach to watching movies sets the Castro Theater apart from the rest, making it a truly exceptional destination.

Why You Should Visit:
It really brings back the feel of watching movies during the silent era; however, the best part is the Art Deco design/feel of the theater.

Tip:
Come a little early to enjoy the beautiful setting (including ceiling) and the fabulous live-playing organist who disappears into the ground with the curtain's rise!
Walking Tours in San Francisco, California
Useful Travel Guides for Planning Your Trip
--- 14 Souvenirs That Scream San Francisco
Home to many historic landmarks, such as Golden Gate Bridge, Chinatown and Alcatraz, San Francisco is closely associated with many iconic images of the American culture, such as Levi's jeans, baseball, and hippie movement. Modern Frisco carefully preserves its legacy by keeping it alive... Divine Artisan Chocolates in San Francisco
San Francisco is home to the most delicious artisan chocolates! From the historic Ghirardelli Chocolate Factory to New American TCHO chocolates, there are many local chocolate boutiques and factories to visit where you might be treated to a few samples. From exotic flavors such as lavender-walnut...