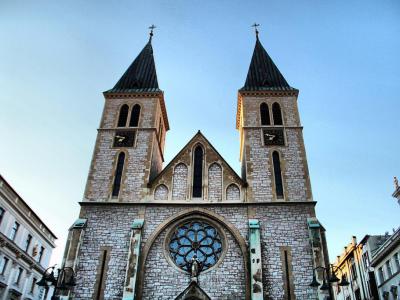 Cathedral of Jesus' Heart, Sarajevo
The Cathedral of Jesus' Heart is a Roman Catholic Cathedral in the historic center of Sarajevo. The 19th-century building goes by many names. Some refer to it as the Sacred Heart Cathedral, Sarajevo Cathedral, or the Cathedral of Jesus' Sacred Heart. It is the archdiocese of Vrhbosna, a small region in today's central Bosnia and Herzegovina.

The Cathedral was constructed between 1884 and 1887 and was consecrated in 1889. Architects Josip Vancas and Baron Karl Schwarz designed the Cathedral of Jesus' Heart in the Neo-Gothic architectural style with Romanesque Revival influences. It was modeled after Notre Dame in Dijon, France.

The religious edifice, which is the largest in Bosnia and Herzegovina, has two bell spires with six bells. On the main building, between the spires, is a rosette and a statue of the Sacred Heart. Inside, the Cathedral has a marble altar designed by Josip Vancas and side altars dedicated to the Immaculate Conception and the apostles of the Slavs.

The Siege of Sarajevo caused some damage to the structure. Unlike many of the other buildings in the city, the Cathedral was not destroyed. It was repaired and continued to host services.
Cathedral of Jesus' Heart on Map
Walking Tours in Sarajevo, Bosnia-Herzegovina