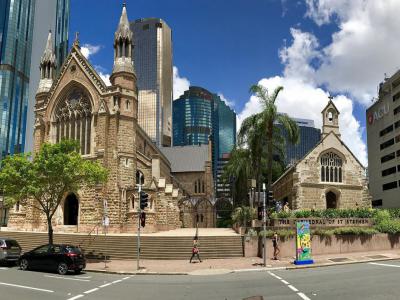 Cathedral of St. Stephen, Brisbane
When Queensland separated from New South Wales in 1859 it was deemed that Brisbane should have its very own grand cathedral. The Catholic diocese set to work and a Gothic Revival cruciform design was approved.

Groundbreaking of the Cathedral of St. Stephen began in 1863. Building of the church was slow and had many issues along the way. The first architect, Benjamin Backhouse, planned a grand cathedral. Those plans were stopped once the foundation was put down and Backhouse was replaced. There were issues with funding.

Richard George Suter was the next architect. He designed the Gothic Revival-style structure that still exists today. He was also eventually replaced by the Hennessy & Hennessy architectural firm. Building of the cathedral would not be completed until 1989.

There are a number of buildings on the cathedral grounds that visitors may find interesting to explore. St. Stephen's Chapel, otherwise known as Old St. Stephen's Church, is the oldest Catholic church in Queensland. Old St. Throughout the cathedral and its grounds there are many notable statues. Stephen's School and the Francis Rush Centre are also nearby.

Inside the church there are many impressive stained windows that came from Munich, Germany, France, England and Ireland. The collection of stained glass is often considered to be the most extensive in Australia.
Cathedral of St. Stephen on Map
Walking Tours in Brisbane, Australia