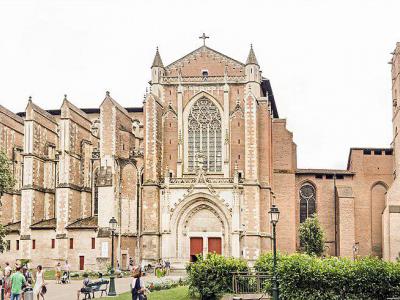 Cathédrale Saint-Étienne de Toulouse (Toulouse Cathedral), Toulouse
(must see)
The Cathedral is a Roman Catholic church and it is listed as national monument since 1862. Rumor has it that the cathedral was erected over the remains of a third century chapel built by Saint Saturnin or Sernin. Saint Saturnin was martyred for his trouble but Saint Exuperius honored his memory 150 years later with a cathedral in the same location.

During the French Revolution the cathedral was sacked and reopened as a "Temple of Reason." The inside of the cathedral were unreasonably destroyed and the building was used as a warehouse for scrap iron. By 1802, Napoleon had made up with the Pope, and the cathedral was returned to the Catholic Church. The City of Toulouse made repairs.

The Cathedral is made mostly of brick. The front facing west is made from two unfinished churches from two different times. The oversized buttresses were formed for a choir much higher than the one that was eventually built. There is a bell tower joined with a donjon of fortress-like proportions. The interior of the church is also a source of confusion.

The two sections of the building are not aligned and try to combine two styles of Gothic architecture. A massive pillar stands between the two sections. Stained glass is mainly 19th century, but there is glass salvaged from almost every decade since the 13th century. Still, with all the chaos of its history, the Cathedral is an island of peace.
Cathédrale Saint-Étienne de Toulouse (Toulouse Cathedral) on Map
Walking Tours in Toulouse, France
Useful Travel Guides for Planning Your Trip
--- Pub Crawl of Toulouse
There are some really great little pubs in Toulouse. This guide helps you find a few of the local favourites, one pint after the other. Discover good craic at Mulligans and The Killarney; be amazed at what's on tap at Bar l'Ancienne Belgique and Bar La Tireuse; and put the English back in...