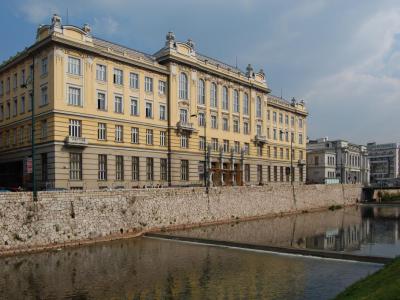 Central Post Office, Sarajevo
The Central Post Office was the primary postal service building in Bosnia and Herzegovina. It was designed by architect Josip Vancas in 1911. Built in the Neoclassical architectural style, it was based on Postsparkasse, the Viennese Postal Savings Office. The Central Post Office officially opened in 1913.

The building was greatly damaged by the Yugoslav National army in 1992. Like many buildings in Sarajevo, the Central Post Office was engulfed in flames. It remained in ruins for many years but was restored in 2001. The interior glass ceiling, chandeliers, and brass counters were all replaced or refurbished to mirror what it looked like when it was first built nearly 100 years earlier.

While the post office was in ruins, it served as a reminder of the war. It was even used as the backdrop for a performance of Moliere's play "Tartuffe" in 1997. Today, the Central Post Office once again functions as a government-run postal center.
Central Post Office on Map
Walking Tours in Sarajevo, Bosnia-Herzegovina