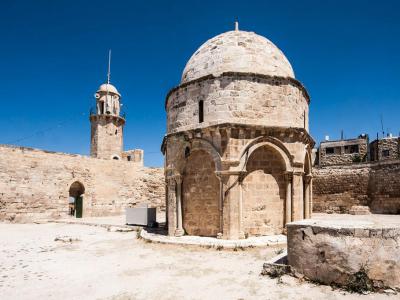 Chapel of the Ascension, Jerusalem
Part of a larger complex consisting first of a Christian church and monastery, then an Islamic mosque, the Chapel of the Ascension is located on a site the faithful traditionally believe to be the earthly spot where Jesus "was carried up into heaven" 40 days after the Resurrection – an impression of a rock inside the small octagonal shrine is regarded as the footprint Jesus left as he ascended.

Before the point in history where Emperor Constantine was converted to the faith, early Christians held special celebrations honoring Christ's return to heaven in a cave located on the Mount of Olives (most likely, the cavern was used for the safety and security of worshippers). Poimenia, a famous Roman Lady of means, built the first chapel here around the year 390, but the present building was erected by the Crusaders, and subsequently converted into a mosque by Salah ad-Din in 1198, with a mihrab pointing towards Mecca (in the south wall) added shortly after. The presence of a mosque on the site is not as bizarre as it might seem, considering that Islam recognizes Jesus as a prophet.

The tiny burial crypt next to the mosque is revered by all three local religions: Jews believe it contains the 7th-century BCE prophetess Huldah, Christians believe it to be the tomb of the 5th-century saint Pelagia the harlot, or the penitent; while Muslims maintain that the 8th-century Sufi mystic and wali, Rabi'a al-Adawiyya is buried there. What is certain is that the Christian tradition of Saint Pelagia is the oldest.

Tip:
If you want to visit this place, try to do so when there are not too many people inside. Arriving before or after prayer time (before or after noon) should be fine.
Chapel of the Ascension on Map
Walking Tours in Jerusalem, Israel
Useful Travel Guides for Planning Your Trip
--- 16 Uniquely Israel Things to Buy in Jerusalem
Modern day Jerusalem is a mosaic of neighborhoods, reflecting different historical periods, cultures, and religions. The influx of repatriates in recent years has made the cultural and artisanal scene of the city even more colourful and diverse. To find your way through Jerusalem's intricate...