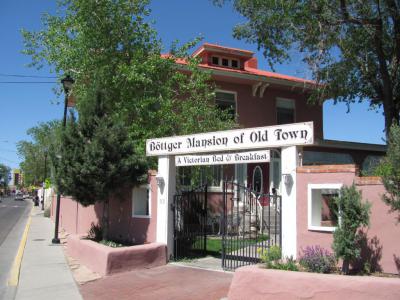 Charles A. Bottger House, Albuquerque
The Charles A. Bottger House is a historic home that now operates as a bed and breakfast. It was originally built for businessman Charles Bottger when he moved to Albuquerque from New Jersey.

The home was designed by Edward B. Christy in the American Foursquare architectural style. The house has a metal tile roof, dormers, sun porches with glass wraps and wide eaves. It was built in 1912 on the land that had been owned by the stepfather of his wife, Tom Post.

The house was unique for its time in that it had modern conveniences that weren't typically seen. Some of these included a home intercom system via speaking tubes and a dumbwaiter.

The Charles A. Bottger House is on the National Register of Historic Places. Much of the house is original, which makes it uniquely outstanding among the few remaining homes that were built in the early 20th century. Visitors who love architecture and history should plan to stop by the house to appreciate its significance and style.
Charles A. Bottger House on Map
Walking Tours in Albuquerque, New Mexico