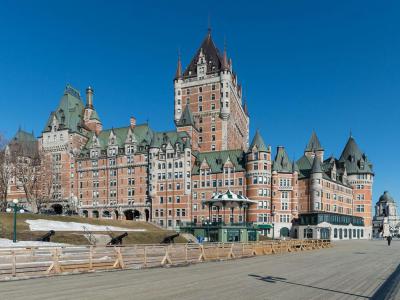 Chateau Frontenac, Quebec City
One of the most astonishing buildings in Quebec, renowned for its fortress-like architecture and majestic location – sitting on top of the Cape Diamond (Cap Diamant) ridge, the Frontenac Castle (Château Frontenac) proudly holds the title of the "most photographed hotel in the world".

Opened in 1893, this was one of the first grand railway hotels built by the Canadian Pacific Railway in the country, whose 18-floor grandness, augmented by the 54-meter (177-foot) elevation that it sits at, rivaled any European hotel of the day and grabbed the attention of travelers visiting the city.

The Châteauesque style of the building was later replicated in other grand railway hotels erected throughout Canada from the late 19th to the early 20th centuries. American architect Bruce Price drew inspiration from Medieval, Renaissance, and Victorian architecture, incorporating into his design such elements as turrets from Scottish castles and bastion towers of French châteaus. The hotel was designated a National Historic Site of Canada in 1981 and expanded on three occasions, most recently in 1993.

The building is named after Louis de Buade de Frontenac, who served twice as the Governor General of New France, and it sits on the site previously occupied by Saint Louis Castle (Château Saint-Louis). The remains of this former seat of the French and later of the British governors of the territory now lie in front of the hotel as an archaeological site.

Over the years, the Frontenac Castle has welcomed many guests of honour among whom were the likes of Queen Elizabeth II, Charles Lindbergh, and other dignitaries and celebrities. Alfred Hitchcock used the building as the setting for his 1953 drama "I Confess", however, the most memorable historic events associated with the hotel are the two Quebec Conferences, held in 1943 and 1944, during which U.S. President Franklin D. Roosevelt, British Prime Minister Winston Churchill, and Canadian Prime Minister William Lyon Mackenzie King discussed Allied strategy for WWII including plans for the invasion of Normandy.

Tip:
If you ever book a room here, ask for a high floor – the 18th floor offers a particularly stunning city view!
Consider taking a hotel tour, offered every day, as there are some good anecdotes and stories to hear from the hotel's history.
Walking Tours in Quebec City, Quebec