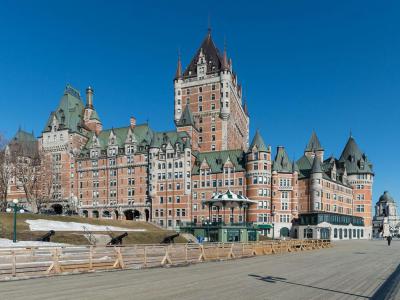 Chateau Frontenac, Quebec City
Proudly holding the title of "most photographed hotel in the world", Château Frontenac, operated now as the Fairmont Le Château Frontenac, is one of the most astonishing buildings in Québec. The fortress-like architecture and its location on top of the Cap Diamant ridge give it an especially majestic feel.

Built in 1893, it is part of a chain of "château-style" hotels that were constructed across the country by the Canadian Pacific Railway. Since Québec was one of the North American ports before the long trip across the Atlantic, the hotel was designed to rival any European counterpart and grab the attention of travelers. American architect Bruce Price drew from both the Middle Ages and Renaissance, using elements like the turrets found on Scottish castles and the bastion towers of French châteaus.

Named after twice governor of New France, Louis de Buade de Frontenac, the hotel sits on the site of what was once Château Saint-Louis, the official residence of the governor of New France and later home of the British governors. The ruins of the many incarnations of the residence lie just in front of the hotel.

It has been the temporary residence of everyone from Queen Elizabeth II to Charles Lindbergh, as well as the setting for Alfred Hitchcock's 1953 drama "I Confess", but the hotel's most memorable moment took place in 1943. It was the site of the Québec Conference of World War II, where U.S. president Franklin D. Roosevelt, British prime minister Winston Churchill, and Canadian prime minister William Lyon Mackenzie King discussed the eventual invasion of France via Normandy.

Tip:
If you book a room, ask for a high floor – city view – the 18th floor is amazing!
A hotel tour runs each day and there are some good anecdotes and stories about events in its history.
Walking Tours in Quebec City, Quebec