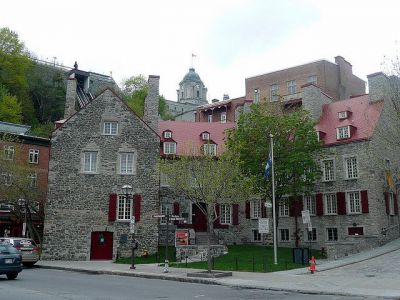 Chevalier House (Maison Chevalier), Quebec City
The historic Jean-Baptiste-Chevalier house is a classical French Maison and a fine piece of New France's urban architecture. A former hotel, it was the first building in the Place-Royale area to be restored in the 1950s.

The current structure is in fact three separate houses from three distinctive periods: Maison de l'Armateur Chevalier (home of a former shipowner Jean-Baptiste-Chevalier), built in 1752; Maison Frérot, with a mansard roof built in 1683 (or 1695); and Maison Chesnay, dating from 1660 (or 1675).
The complex was destroyed by fire and rebuilt in 1762.

All the three houses were repaired or partially rebuilt following the British Conquest, and used for commercial purposes. As a group, they were rescued from deterioration by Gérard Morisset, the influential director of an art works inventory, who suggested that they be purchased and restored by Québec's government, which in turn has prevented the demolition of the Royal Square itself.

From 1807, the house was rented by its owner, George Pozer, to an innkeeper who had London Coffee House inscribed on the facade; thus the Chevalier house was known by this name until the early 20th century. The Maison Chevalier, twinned with its two neighbors, was classified as a historic monument and became a museum in 1965. In April 2013, Maison Chevalier was renamed Maison historique Chevalier.

With the iconic Château Frontenac visible in the background, this is an excellent place to walk around while soaking in the area's beauty and history. During the Quebec Carnival in February, it is also a great place for traditional music evenings.
Sight description based on Wikipedia.
Chevalier House (Maison Chevalier) on Map
Walking Tours in Quebec City, Quebec