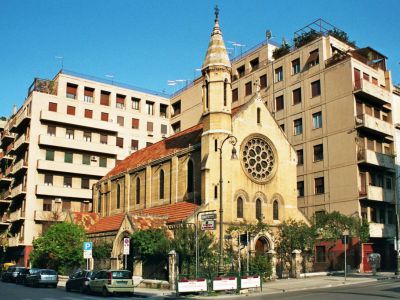 Chiesa Anglicana (Anglican Church), Palermo
Formally known as The Church of the Holy Cross, this 19th-century temple on Via Roma is the only Anglican church in Palermo.

It was built in the 1870s, when Sicily was under the British Protectorate, seeing many British entrepreneurs come to the island in search of an investment opportunity. Two English entrepreneurs, namely Joseph Whitaker and his cousin Benjamin Ingham Jr., funded the construction of this church. For this project, Benjamin Ingham Jr. donated his own land, located in front of the then Ingham palace (today Grand Hotel et des Palmes), but died in 1872. Subsequently, Whitaker took care of the construction, which commenced in 1872 and was completed in 1875.

The design was done by William Barber and Henry Christian, the latter being the son-in-law of Joseph Whitaker. The church organ, built by "TW Walker & Sons" in London, was shipped directly from the UK in 1903; in 2003 it was rebuilt on the occasion of the centenary of the same.

The style of the building is typical of the Anglican churches of the time, with a large central rose window and a thin bell tower ending in a point. The base of the building follows a regular rectangular plan and the façades, both the front and side ones, are quite bare of decorations; there are only small skylights.

During World War II, the church was used by the U.S. Forces. It was entrusted to the diocese of Gibraltar in 1962, and today forms part of the Diocese of Europe, whilst remaining dependent on the Anglican Church of England.
Sight description based on Wikipedia.
Chiesa Anglicana (Anglican Church) on Map
Walking Tours in Palermo, Italy