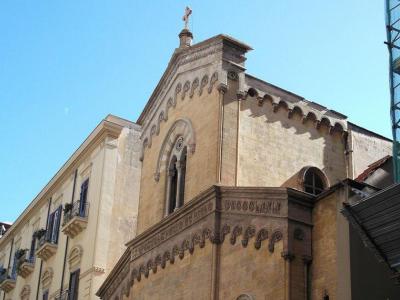 Chiesa dei Santi Pietro e Paolo (Saints Peter and Paul Church), Palermo
The church of Saints Peter and Paul in Palermo is a marvelous piece of Renaissance architecture, designed by the renowned Italian architects, Giacomo Serpotta and Domenico Castelli, who also created the wonderful stuccoes inside. The building's façade comprises three inputs to pointed arches in Romanesque style.

The central altar and the side altars have been decorated by the painter G. La Manna. There, depicted in the center are St. Peter, Jesus, and St. Paul; on the left are David, the prophets Jeremiah and Ezekiel; on the right are Isaiah, Daniel and Solomon; and above are the archangels Gabriel and Michael. The left altar is dedicated to St. Benedict of Norcia, with a number of Sicilian saints at the top. The right altar is dedicated to Madonna del Perpetuo Soccorso; at the top you can see Sant'Anna, San Gioacchino, Giovanni Battista, Sant'Alisabetta and San Giuseppe.

Going along the left side aisle, you can find the altar dedicated to the Sacred Heart of Jesus with a plaster statue. Crucifix with the wooden statue of Maria Santissima Addolorata and, above the confessional, the oil painting "The massacre of the Innocents" made in 1880. On the right side aisle there are the chapels of Santa Teresa del Bambin Gesù and Saint Joseph, with the depiction of the saint in oil on canvas.

At the central entrance there is a stained glass window decorated laterally with the icons of San Mauro and San Placido, Saint Geltrude of Nivelles and Saint Scholasticaall of the Benedictine order; in the center there are images of archangels Michael and Gabriel.

From 1880 to 1940, the church was the chapel of the nearby Benedictine monastery; in 1941, due to the reduced number of nuns, it was ceded to the archdiocese, and became a parish.
Sight description based on Wikipedia.
Chiesa dei Santi Pietro e Paolo (Saints Peter and Paul Church) on Map
Walking Tours in Palermo, Italy