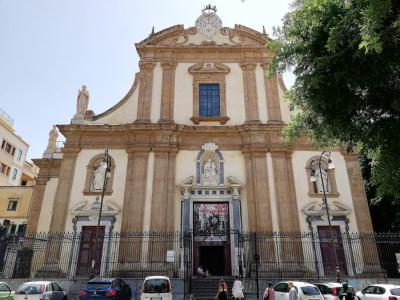 Chiesa del Gesù (Church of Jesus), Palermo
(must see)
Jesuits arrived in Palermo in 1549. After settling in, they began to build. They had their own Jesuit architect, Giovanni Tristano. Following his design, they built one of the most important Baroque churches in Sicily, Church of Jesus.

Tristano's design required a single nave, transepts and side chapels. Early in the 17th century this was changed by architect Natale Masuccio. Natale favored something more sumptuous. He removed the chapel walls and added two more naves. When this was finished in 1636, the church was consecrated.

In 1943, during an air raid, a bomb exploded and crushed the church dome. The adjacent walls were mostly destroyed along with frescoes and paintings.

Some of the interior survived. Marble bas-reliefs showing the Adoration of the Shepards and the Adoration of the Magi by Gioacchino Vitagliano (1719-21) remain intact. A fresco of the Adoration of the Magi by Antonino Grano and a relief of the Glory of Saint Luke by Ignazio Marabitti also lived after the bomb.

The facade has three portals in the lower part. Above are niches with statues of Ignatius Loyola, a Madonna and Child and Francis Xavier. The nave is 237 feet long, 140 feet wide and 230 feet high. It is decorated with frescoes. The pillars are covered with marble reliefs and mosaics. The rebuilt church has a double dome.
Chiesa del Gesù (Church of Jesus) on Map
Walking Tours in Palermo, Italy