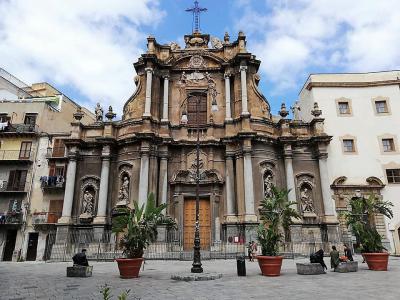 Chiesa di Saint Anne 'della Misericordia (Church of Saint Anne the Merciful), Palermo
The Church of Saint Anne the Merciful, or simply Sant'Anna, is a Baroque church found near the ancient market of Lattarini, in the historic center of Palermo. It is affiliated to the Third Order Regular of St. Francis of Penance.

The 16th-century document, called "Contrada della Misericordia", contains record of a chapel dedicated to Our Lady Of Pity in this area. There, Tommaso de Vigilia painted a fresco of the Pietà, which over time became an object of popular devotion. In 1596, the structure, located near the chapel and used as a granary, was converted into a place of worship with the icon hung therein. In 1597 the convent of Sant'Anna was built.

Eventually, the church proved too small for liturgical needs, and the Palermo authorities decided to enlarge it with the help of local aristocracy and common worshipers. The architectural design, featuring late Renaissance style, was done by the senatorial architect Mariano Smiriglio. On 26 October 1606, the groundbreaking was launched. The church was completed in 1632 and consecrated on 13 November 1639. The temple was dedicated to Saint Anne, mother of Mary, and is thence known as Sant'Anna la Misericordia.

In 1726, the Terrasini earthquake caused the building's façade to collapse. The new façade was designed by Giovanni Biagio Amico in accordance with conventions of the Roman Baroque. Over the following centuries, the church had sustained multiple damages from several earthquakes.

After the unification of Italy in 1861, the church and the convent were confiscated by the state, and for several years afterwards were used as granary. In 1925, the church and part of the convent were returned to the friars.

Today, the convent houses a museum of modern art, called the Galleria d'Arte Moderna Sant'Anna.
Sight description based on Wikipedia.
Chiesa di Saint Anne 'della Misericordia (Church of Saint Anne the Merciful) on Map
Walking Tours in Palermo, Italy