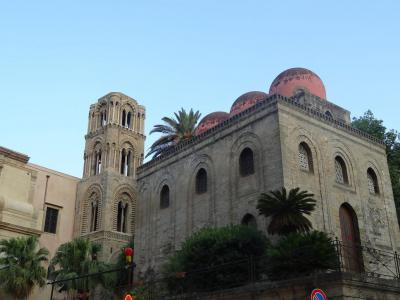 Chiesa di San Cataldo (Church of San Cataldo), Palermo
The Church of San Cataldo is a Catholic temple located in Piazza Bellini, and attached to another church – of Santa Maria dell'Ammiraglio. Erected in 1154, this is a notable example of the Arab-Norman architecture, unique to Sicily, which flourished under the Norman rule.

The church was founded by admiral Majone di Bari. In the 18th century the building was used as a post office, and in the 19th century was restored to the original Medieval appearance and returned to the religious service. Since the 1930s, the church has been the property to the Order of the Holy Sepulchre.

The rectangular plan of the church, with blind arches, partially occupied by windows, shows the Normans' predilection for simple and severe forms, derived from their military formation. At the same time, it shows elements present in the Islamic and Byzantine architecture, such as the preference for cubic forms, with the blind arches articulating the external walls, and the typical spherical red, bulge domes (cubole) on the roof and Arab-style merlons.

The interior has a nave with two aisles. The naked walls are faced by spolia columns with Byzantine style arcades. The splendid mosaic pavement is original. Also original is the main altar.

Beneath the church, open to view, is the remnant of the old City Wall.
Sight description based on Wikipedia.
Chiesa di San Cataldo (Church of San Cataldo) on Map
Walking Tours in Palermo, Italy