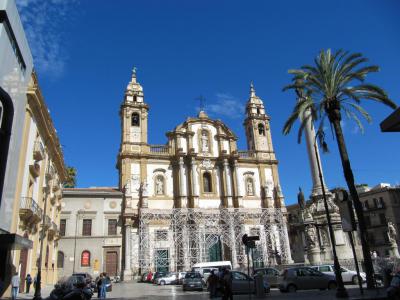 Chiesa San Domenico (San Domenico Church), Palermo
The church of San Domenico in Palermo is known locally as the "Pantheon of Illustrious Sicilians." It has overseen the burials of many prominent figures in Sicilian history. The first Dominican church here was Norman-Gothic in style. It was small, but it had a convent and cloister. It was made in imitation of the Benedictine cloister of Monreale.

In the 15th century the church had really become too small. With the aid of Pope Martin V a new church was built in the Renaissance style. Time marches on and the Renaissance church in turn became too small. In 1630 Domincans commissioned architect Andrea Cirrincione to build a replacement. It took a while.

It was not until 1640 that ground was broken. The work continued. The Baroque facade was finished in 1726 and the bell tower was completed in 1770.

The style is Baroque. There are two high bell towers and stucco statues on the facade of saints and popes, some in niches. There are twelve columns on the facade. They stand in twos. Eight line the entrance and four are on the bell towers.

The convent is accessible from the north side of the church. The cloister has columns and arches from the 13th century. On the walls are paintings of Dominican Saints, the Apocalypse and the Last judgement. There is also a refectory and a library.
Chiesa San Domenico (San Domenico Church) on Map
Walking Tours in Palermo, Italy