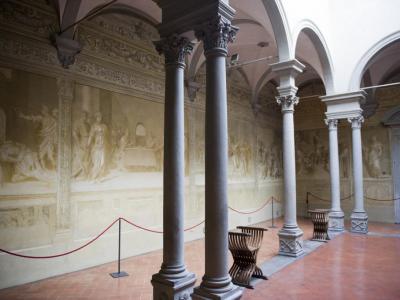 Chiostro dello Scalzo (Cloister of the Scalzo), Florence
The Scalzo Cloister served as the entrance to the cloister of the Confraternity of St. John the Baptist. The Confraternity, established in 1376, earned the nickname "dello Scalzo" because its members, who carried crosses in processions, walked barefoot. In 1785, Pietro Leopoldo of Lorraine disbanded the Brotherhood and sold off their property, except for the cloister itself, which housed sixteen chiaroscuro frescoes depicting episodes from the life of St. John the Baptist. These frescoes were primarily painted by Andrea Del Sarto (1486-1530), a prominent artist of his time and a member of the Scalzo. He was highly regarded during his lifetime and known for his exceptional skills in fresco decoration, altarpiece painting, portraiture, drawing, and use of color. However, his fame diminished after his death, overshadowed by contemporaries like Leonardo da Vinci, Michelangelo, and Raphael.

Created between 1514-24, these frescoes are a remarkable display of stylistic and technical perfection by a master artist who played a significant role in the artistic scene of Florence at the beginning of the 16th century. Del Sarto's influence is now also recognized as crucial to the development of Mannerism.

The frescoes consist of twelve scenes that form a narrative, beginning to the right of the entrance. The sequence starts with the Annunciation to Zachary (1523), followed by The Visitation (1524), The Birth of the Baptist (1526), The Blessing of the Young St. John (1519), Meeting of Jesus and the Young St. John the Baptist in the Desert (1518), The Baptism of Christ (circa 1509-1510), The Baptist Preaching to the Crowds (1515), The Baptism of the Crowds (1517), St. John's Capture (1517), The Dance of Salome (1522), The Beheading of St. John the Baptist (1523), and The Presentation of the Head of St. John the Baptist (1523). It's important to note that the dates of the scenes do not follow the narrative sequence.

Additionally, the cycle includes four figures represented as trompe-l'oeil niches, giving the illusion of sculptures. These figures symbolize Christian virtues: Faith (circa 1523) and Hope (1523) flank the entrance, displaying the Latin inscription "Laudate Dominum in trio sancto eius" ("Praise the Lord in His holy place"). Charity (circa 1513) and Justice (1515) stand on either side of the former passageway into the chapel, featuring another Latin phrase, "Introbibo in Domum Tuam" ("I shall enter your household").
Chiostro dello Scalzo (Cloister of the Scalzo) on Map
Walking Tours in Florence, Italy
Useful Travel Guides for Planning Your Trip
---