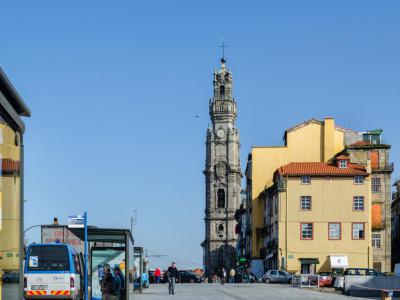 Church and Tower of the Clergymen, Porto
(must see)
Nicolau Nasoni, an Italian architect and painter of the 18th century, did a lot of work throughout Portugal. His most memorable project is the Church and Tower of the Clergymen. His other works include the construction of the Misericordia Church, the Archbishop's Palace and the lateral loggia of Porto Cathedral.

Construction of the church was completed in 1750. The bell tower and divided staircase in front of the church were not finished until 1763. The facade is ornate with Baroque decorations such as garlands and shells and an indented pediment. The frieze above the windows has spiritual symbols. The sides show an elliptical nave.

The Church of the Clergymen (Clerigos) was among the first baroque style churches to have an elliptical floorplan. The polychromed marble altarpiece in the large chapel was done by Manuel dos Santos Porto.

The Tower is in a Roman Baroque style of Tuscan bell towers. It is 245 feet high and it takes 240 steps to reach the top for an incredible view of Porto. The tower is one of the recognizable symbols of Porto.

Nicolau entered the Clerigos Brotherhood and when he died he was buried in the crypt of his masterpiece, The Church and Tower of the Clergymen.
Church and Tower of the Clergymen on Map
Walking Tours in Porto, Portugal