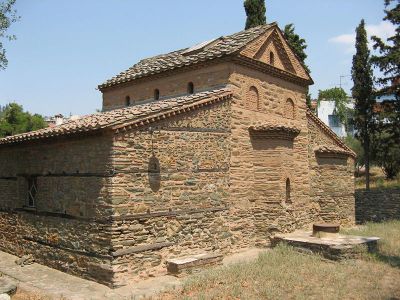 Church of Saint Nicholas Orphanos, Thessaloniki
The Church of Saint Nicholas Orphanos was originally built in the early 14th century as part of a monastery.

Serbian king Stephen Uros II Milutin sponsored several churches in Thessaloniki and might have sponsored the Church of Saint Nicholas Orphanos. Milutin's patron saint, Saint George Gorgos, is depicted in a fresco in the church's main aisle. Another fresco features St. Clemens of Ohrid, who was often depicted in Serbian churches.

The Church of Saint Nicholas Orphanos avoided conversion during Ottoman rule. This is probably because the church is relatively small, humble, and out of the way.

The small, simple church originally had a wooded gabled roof. The exterior features brick and stone in irregular layers. A small walled garden provides a delightful place for contemplation.

The interior features the church's original marble templon. The church's most impressive feature is its original frescoes covering the walls. The frescoes show various narrative scenes showing Christ's life and miracles. The frescoes also feature scenes from the life of Saint Nicholas.
Church of Saint Nicholas Orphanos on Map
Walking Tours in Thessaloniki, Greece