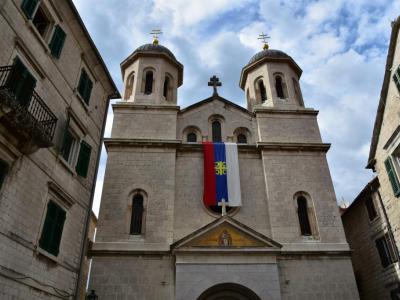 Church of St. Nicholas, Kotor
Even though its Byzantine styling makes it look much older, the Church of Saint Nicholas was built from 1902 to 1909. It was built to replace an 1810 church that existed on the same site but was destroyed by fire in 1896. Before that, the site was occupied by a 16th-century monastery.

Saint Nicholas is a Serbian Orthodox congregation. The Serbian flag hangs over the main entrance.

The building is framed by two large bell towers with black domes. Atop the domes are gold crosses that were a gift from Russia.

The church's interior is adorned with an impressive collection of beautiful silver pieces, from candle holders to impressive chandeliers. The iconostasis was made by the Czech painter Frantisek Ziegler in 1908.

Despite these embellishments, the church is relatively unadorned, as is the custom in Orthodox churches. The plain grey walls capture light from simple stained glass panels, which create a calming and mystical effect.
Church of St. Nicholas on Map
Walking Tours in Kotor, Montenegro