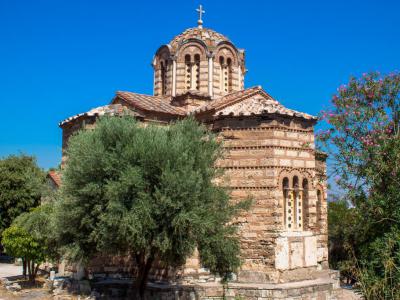 Church of the Holy Apostles, Athens
One of the rare Byzantine edifices that has retained much of its original form since the 10th century, the charming little Church of the Holy Apostles can be found near the center of the Ancient Roman Forum. It was originally constructed atop a 2nd-century Nymphaeum (a monument dedicated to nymphs in classical Greece), with the purpose of commemorating Apostle Paul's teachings in the Agora.

In keeping with the architectural trends of its era, the church features exterior brick decorations that mimic Arabic calligraphy. Throughout the period of Ottoman rule, it underwent several alterations, but a restoration effort conducted between 1954 and 1957 removed its 19th-century additions, returning it to its original state.

On a scorching day, this site offers a welcome respite from the sun. Inside, you'll discover a collection of exquisite Byzantine frescoes, relocated from a demolished church, and the relative obscurity of this Byzantine gem means you can often enjoy it in peaceful solitude.

While there isn't seating inside, you can find lovely benches in the shaded area outside to relax and take in the surroundings.

Why You Should Visit:
Although not grand or imposing in scale, this church offers valuable insights into the appearance of smaller churches from centuries past.
Church of the Holy Apostles on Map
Walking Tours in Athens, Greece
Useful Travel Guides for Planning Your Trip
---