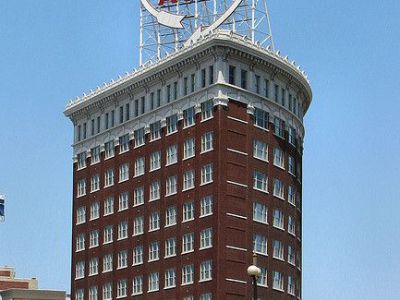 Coca-Cola Building, Kansas City
While this building was built in 1914 for The Coca-Cola Company, most know it by its later association with Western Auto. That might have something to do with the enormous multi-story lighted sign on the top. That sign still stands today, making the building a city landmark visible throughout the Crossroads neighborhood and from I-35.

Starting as early as 1909, Coca-Cola planned the building due to its proximity to the up-and-coming Union Station and downtown business district. It was to be their headquarters for distribution throughout the west-central US. The building was drawn up by Coca-Cola's chief architect, Arthur Tufts, who had to deal with the lot's constraints due to different elevations and the bordering railroad tracks. The building has a unique shape designed to maximize the use of the triangular piece of land once it sits. A large Coca-Cola sign graced the building's top until 1928. Western Auto, a catalog auto parts distributor, progressively occupied more and more space in the building until it purchased it in 1952. They spent over $300,000 in renovations on the building and installed the iconic 70-by-73-foot sign that weighs more than 30 tons.

Western Auto was eventually purchased by Sears-Robuck and then Advanced Auto Parts, and the building was sold off. The sign remained, and a forward-thinking real estate development purchased the building and kept the sign, embracing the name. Today, the building and a few other surrounding buildings have been converted into condominiums as part of the Western Auto Lofts. In 2018, after a major upgrade project to get the old sign ready for the modern world, the sign was switched back on with energy-efficient LEDs replacing the original neon tubes and incandescent lightbulbs.
Coca-Cola Building on Map
Walking Tours in Kansas City, Missouri