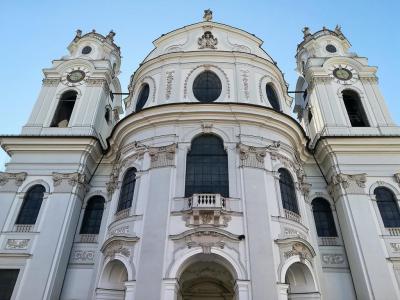 Collegiate Church, Salzburg
The Collegiate Church was built as the place of worship for the adjacent Benedictine University. It is the finest example of Baroque architecture in Salzburg and became the model for other churches in Austria and Southern Germany.

Prince Archbishop Paris London established the Benedictine University in 1623 and made plans to build a church for the university. Renowned architect Johann Bernhard Fischer von Erlach was commissioned to design the building, and the result was one of his finest works. The church was constructed between 1694 and 1707. It was used as a hay store when Napoleon's army invaded Salzburg and was disbanded in 1810 when the city came under the Bavarian rule. During the Austro-Hungarian rule, it was a secondary school and military church. It was the venue of the Great World Theater in 1922, and in 1964 it regained its original purpose after the University of Salzburg was re-established.

The interior has a modified Greek cross plan with a convex façade. In 1740 a high altar created by Alton Pfaffinger was added with classical columns representing the seven pillars of wisdom. The altar paintings were by celebrated religious artist Johann Michael Rottmayr. The chapels inside are dedicated to the patron saints of the four university disciplines, St. Thomas Aquinas of theology, St. Ivo of jurisprudence, St. Luke of medicine, and St. Catherine of philosophy.
Walking Tours in Salzburg, Austria