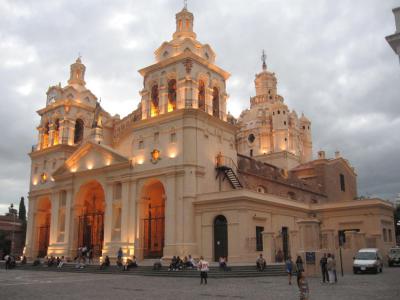 Córdoba Cathedral, Cordoba
(must see)
The Córdoba Cathedral is the central church of the Roman Catholic Archdiocese of Córdoba, and the oldest church in continuous service in Argentina. Construction on the original church, the Iglesia de Nuestra Señora de la Asunción began in 1598. Its early works were planned by architect Nicolás de Dios, public works director Gregorio Ferreira, and master mason Juan Rodríguez, who employed mostly indigenous artisans and laborers. Beams and rafters were planned by Mateo Domínguez, and Hernando Álvarez designed and oversaw installation of the roof's 30,000 mission tiles.

Much of the initial structure was lost in a 1677 collapse. The incomplete church was inaugurated in 1709. Further additions included the cupola, designed by Franciscan Friar Vicente Muñoz, the Spanish Baroque façade and the Neoclassical portico were designed in 1729 by Italian architect Andrea Blanqui. The cathedral was consecrated by Bishop José Antonio de San Alberto in 1784, and the twin campaniles were completed in 1787. The cathedral is separated from the Córdoba Cabildo by the Santa Catalina Promenade.

The ornate interior, overlooked by the sterling silver altar crafted in Colonial Peru, also includes a church tabernacle donated to the cathedral in 1804, as well as an extensive collection of silver and gold votive offerings. The interior was later decorated with frescoes and murals painted in the early years of the 20th century by Emilio Caraffa, Carlos Camilloni, and Manuel Cardeñosa; a cast iron monument, Cristo Redentor was installed above the portico in 1901.
Sight description based on Wikipedia.
Walking Tours in Cordoba, Argentina