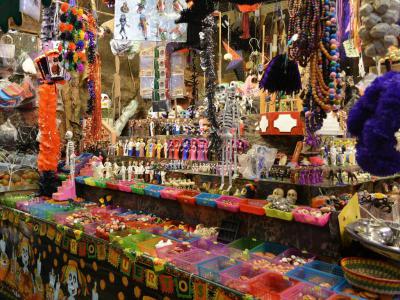 Coyoacan Market, Mexico City
They say, if you want to get to know the daily life of an area, dive deep into its market. Established in 1921 (although the location has moved since), the Coyoacán Market, one of the icons of the Coyoacán neighborhood, is also one of Mexico City's most iconic shopping destinations. Whether you want to gawk at the rows of colorful products or snag some affordable textiles, this market is good for anyone who wants a truly local experience.

Particularly famous for its color, folklore and tradition, the Mercado Coyoacán has been selling everything under the sun for the better part of the 20th century through the 21st. Over this period, hundreds of artists have walked its halls, including the likes of Frida Kahlo and Diego Rivera, for whom Coyoacán was their hood. In addition to every Mexican market's staples, like fresh fruits and veggies, meat, groceries, etc., here you can find loads of snacks, full meals, juices and smoothies, crafts, costumes for all occasions, traditional Mexican clothing and toys, plants, gifts and even small birds (you name it).

In time for every seasonal festival, it has everything you can possibly need for decorating, cooking and celebrating the event. In December, for instance, it is common to find here numerous stalls selling romeritos, candy and piñatas, whereas in early November here are flowers and costumes for the Day of the Dead, while in September – hats, flags and everything else necessary for the national holidays then. There are also tonnes of souvenirs to choose from, and at the rather affordable prices too.

The complex covers an entire block of Del Carmen colony and has three large shops and a roof arch type of structure that once housed a flea market.

Tip:
Although not particularly great a place for handicrafts, if you are interested in seeing how the locals do their everyday shopping, this is your place. But be warned that the shopping alleys are narrow, so stay away if you're not a fan of tight, crowded spaces.
Souvenir prices here are much MUCH lower than elsewhere, e.g. the El Sabado Bazaar, so don't even bother going there if you need lots of souvenirs.
Walking Tours in Mexico City, Mexico
Useful Travel Guides for Planning Your Trip
--- 10 Must-Try Mexican Foods in Mexico City
While Mexico is a treasure trove in terms of cultural and artistic heritage (ancient history, architecture, etc.), the vast majority of visitors to the country are lured mainly by, let's face it, bodily pleasures. The latter are manifested in the form of sandy beaches, sun and, most... Souvenir Shopping Guide: 17 Must-Buy Local Products from Mexico City
Both historic and modern day Mexico's are worth each other in terms of cultural and artistic heritage. The country's capital Mexico City is a showroom of what the label "Made in Mexico" stands for in its entirety. Whether it's authentic food, drink or piece of craftsmanship...