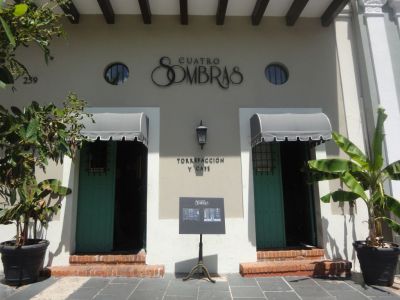 Cuatro Sombras, San Juan
In San Juan, ordering up a cup of coffee or a "cafecito" is a part of just about everyone's day. People gather at almost any hour at one of the old city's outdoor plazas sipping a coffee engaged in lively conversation with friends. Coffee was once one of Puerto Rico's top exports until a decline in production forced most of the smaller coffee plantations to close. Recently, there has been a resurgence of small family farms producing coffee and a handful of micro-roasteries and coffeehouses have opened, serving single-origin coffee grown in the island's interior mountains.

One of the newest to open in San Juan's historical old city is Cuatro Sombras – which means Four Shades (or shadows) and refers to the four different trees that provide shade to their coffee beans while they grow. The Santa Clara coffee farm had closed its doors like many others in Puerto Rico in the mid 1950's. Fortunately, descendants of the original family decided to dedicate themselves to reviving the farm. As a result, Cuatro Sombras, certified for making specialty coffee, now offers their crisp, clean tasting coffee to local coffee lovers and visitors alike.

An 8-ounce latte costs $2.09. Price: 8 oz. bag of coffee beans $11.77 including tax.

What to buy here: Puerto Rican Coffee.

Opening hours: Daily: 7 am- 8 pm.
Image Courtesy of Stacey Hocheiser.
Walking Tours in San Juan, Puerto Rico
Useful Travel Guides for Planning Your Trip
--- 13 Distinctively Puerto Rican Goods to Bring Home from San Juan
The uniqueness of Puerto Rico is partially associated with its political status - part of the United States yet with a Latin twist. Other than their widely-acknowledged musical talents, e.g. Carlos Santana and Ricky Martin, Puerto Rico is just as rich in many other good things. When you're in...