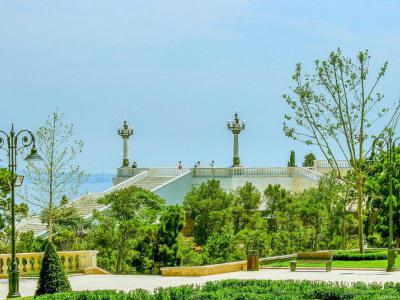 Dagustu Park (Upland Park), Baku
Dagustu Park is a large, wooded park in the midst of downtown Baku. Dagustu Park contains numerous shade trees and walking paths along with historical landmarks, a cemetery and a place of worship. It is arguably best known for having the highest point in Baku.

The panoramic view from the observation deck at Dagustu Park can be reached by the Baku Funicular. It offers an excellent opportunity to see the city and the Caspian Sea. Visitors can also see the Flame Towers and their motion displays from this vantage point.

Dagustu Park also offers an excellent restaurant with a live jazz band that plays in the evenings. The Shahidlar Monument is located within the park while the Hezi Aslanov Qebirustu Abidesi landmark rests nearby. Dagustu Fountain and the Baku British Military Memorial are both worth stopping to visit while strolling through this lovely green space.

The park is open 24 hours. The funicular that travels to and from the highest point in the park runs from 10 AM to 10 PM daily.
Dagustu Park (Upland Park) on Map
Walking Tours in Baku, Azerbaijan