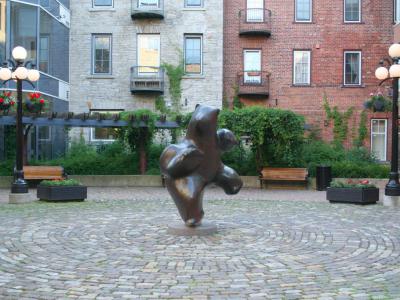 Dancing Bear Sculpture, Ottawa
Tucked away and partially concealed, Jeanne d'Arc Court in the ByWard Market offers a peaceful urban retreat, perfect for capturing memorable photographs of Ottawa. This hidden gem transforms into a vibrant oasis during the spring, summer, and fall, adorned with lush greenery and blooming flowers.

Beyond its picturesque setting, locals hold a deep affection for the courtyard, primarily due to the presence of the Dancing Bear sculpture at its center. This adorable bronze portrayal of a polar bear, resembling a cartoon character, was installed in 1999. The sculpture was crafted by Pauta Saila, an Inuit artist from Nunavut. Saila, who grew up on Baffin Island and had firsthand experience with bears, sought to capture their essence through his art. Notably, this sculpture marks the first public artwork by a Nunavut-based artist exhibited in the capital.

Saila began carving in the 1950s to supplement his income as a hunter. His sculptures, typically made of soapstone, are large-scale and feature simplified depictions of Arctic wildlife. Among his renowned creations are the powerful and somewhat abstract dancing bears. Saila himself insisted that the bears were not dancing but merely playing, much like when he observed them on the ice fields during his hunting expeditions.

A plaque on the wall of the condominium adjacent to the Paper Papier store reveals that the statue was donated by the family of Charles Jennings, a pioneer in Canadian broadcasting, and his wife Elizabeth.
Dancing Bear Sculpture on Map
Walking Tours in Ottawa, Canada