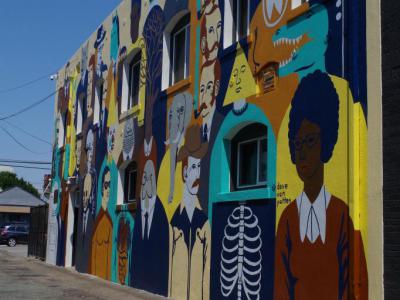 Dave Van Patten Mural, Long Beach
Dave Van Patten is a Long Beach/ Los Angeles-based artist whose art is heavily inspired by the 1960s surrealist children's books, Indy weirdo comics, 1990s SNL humor, and psychedelic album art. Fusing all these influences, he produces visuals that range from dreamlike absurdism, psychedelic surrealism, childlike-storybook simplicity, Socio-political satire, philosophy and spirituality, ethical fables, to disturbingly dark humor. The unifying factor of all these genres is an attempt at humor and underlying conscience. Van Patten's murals are distinguished by clean lines, bright and cohesive color scheme that ultimately feels good on the eyes.

His POW! WOW! mural in Frontenac Ct. alley off Broadway has been inspired by the Beatles' Sgt. Pepper's album cover. It is filled with a modern cast of "weirdo characters" including unicorns with mullets, zombie cowboys, a creepy suit man and others. The mural uses graphic shapes and neutral colors.
Dave Van Patten Mural on Map
Walking Tours in Long Beach, California