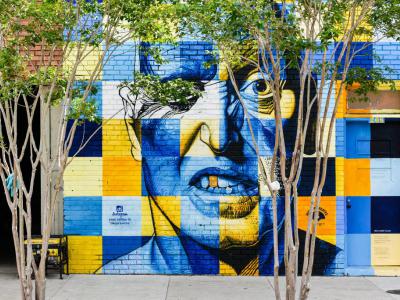 "Deep Rawlins" Mural by Steve Hunter, Dallas
"Deep Rawlins" is the grimacing man known to locals as Rawlins Gilliland, "a real character" who's been around Dallas forever. Located near the corner of Crowdus and Elm Street, this mural is the first Deep Ellum creation of Steve Hunter, a fine artist from across the pond who came to Dallas in 2004. Done in mosaic, the arresting image was part of the 42 Murals project which enlisted 42 artists from North Texas (and even one from Europe) to "paint the town". As you might guess, Rawlins himself penned a poem just for the mural, which Hunter added to the piece. Unfortunately, with the Deep Ellum Hostel purchase of the space, the poem was removed during renovation work. Hunter hopes to paint the poem back in at some point, but for now you can get your picture taken with Rawlins and read his original verses as salvaged from social media:

"Deep Ellum, go tell 'em
you're young and alive,
where stirring art cocktails
unshaken survive.

Whose memory tiptoes
past lovers we've known
as musical midnight
knights never old grown."
"Deep Rawlins" Mural by Steve Hunter on Map
Walking Tours in Dallas, Texas