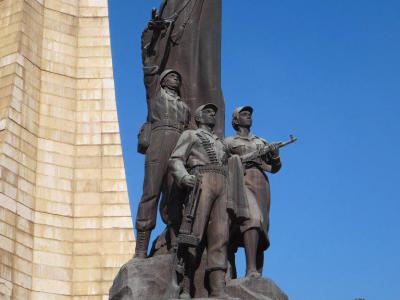 Derg Monument, Addis Ababa
(must see)
Derg Monument is a memorial to the most ruthless totalitarian regime in the history of Africa. The Derg, Common Derg or Dergue is the short name of the Coordinating Committee of the Armed Forces, Police, and Territorial Army that ruled Ethiopia from 1974 to 1987. It took power following the ousting of Emperor Haile Selassie I. Embracing communism as an ideology in 1975, the Derg executed and imprisoned tens of thousands of its opponents without trial between 1975 and 1987.

The monument is classified as one of the major landmarks of the city. It is also called Tigilachin Monument. It has a column with a red star at the top. There are statues of 3 soldiers at the column. This monument was received as a gift from North Korea. Currently, the monument grounds are overgrown and the monument has suffered from neglect (which some say is deliberate).
Sight description based on Wikipedia.
Walking Tours in Addis Ababa, Ethiopia