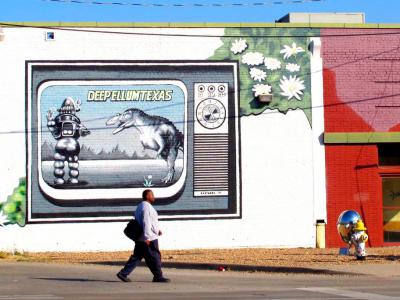 "Dinosaur vs Robot" Mural at Louie Louie's, Dallas
Deep Ellum is spotted with strange artwork open for interpretation. One that instantly comes to mind is the Dinosaur vs Robot piece by Franc Campagna, based on the artist's childhood fascination with those things. Well-known for having painted hundreds of murals throughout Dallas, Campagna is particularly proud with this one, which, in a sense "represents both the past and the future, as seen on TV".

The mural can be found on the wall of Louie Louie's Piano Bar – a great place for a night out in town. The venues has plenty of room with seating and a long bar to get service, but what really stands out is its atmosphere of youthful nonchalance. The musicians are phenomenal, switching with ease from one instrument to another; they will also take song requests (usually a tip helps get the song played faster) and will involve the crowd throughout the night. The mixture of music ranges from '70s-2000's, soul, rock, hair band, country and current. It is a place where, for a few hours, time is frozen while you drink, laugh, and belt out incorrect lyrics to your favorite songs while standing on chairs. No one cares and for the night you are safe! Just don't forget to make reservations unless you like to stand in the back.
"Dinosaur vs Robot" Mural at Louie Louie's on Map
Walking Tours in Dallas, Texas