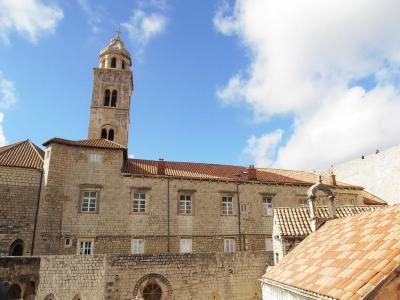 Dominican Monastery and Museum, Dubrovnik
The Dominican Monastery of Dubrovnik is very old and was established in 1315. Much of its original funding came from the local government. In addition, many local builders volunteered to help the Dominican Order to get established in the city. Sadly, the building sustained great damage during the 1667 earthquake and had to be rebuilt in places.

It is a classic example of a Gothic cloister, adjoined by a working medieval well and an old bell tower that combines various architectural styles, from Romanesque to Baroque. The former is attributed to the famous artist from Milan, named Bonino.

A special treasure of the Dominican monastery is the library with 216 incunabula, numerous illustrated manuscripts, a rich archive with precious manuscripts and documents, plus an extensive art collection. The stairway has a balustrade which leads to the south entrance. There is a statue of St. Dominique, founder of the Dominican Order. Also deserve mentioning are the newer Gothic arch and the statue of Christ.

The monastery campus is an example of one of the first multi-faceted construction projects in the city. Part of it is a cute little museum located off a small passageway behind the Sponza Palace which, sadly, many visitors tend to miss. The museum is dedicated to preserving and displaying religious art from Dubrovnik. The collection includes some remarkably well-preserved paintings, church vessels and triptychs, as well as a reliquary purportedly containing the skull of King Stephen I of Hungary.

A big doorway leads to the Church of St. Dominic. The bell tower, as well as an old medieval well, are also there to see – as parts of the overall complex surrounding the museum.

Why You Should Visit:
If looking to go somewhere peaceful, away from the crowds, this is an excellent place to go.

Tip:
Buy the Dubrovnik one-day ticket that gives you access to several museums, including this monastery.

Opening Hours:
(1 May – 31 October) Daily: 9 am-6 pm; Working hours in winter: 9.00 am – 5.00 pm.
Dominican Monastery and Museum on Map
Walking Tours in Dubrovnik, Croatia