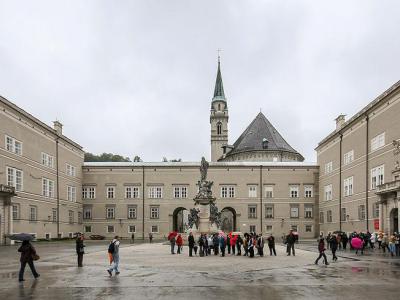 Domplatz, Salzburg
Flanked by the Salzburg Cathedral and other buildings belonging to the church, this square is used today as a venue for performances and as the site of the annual Christmas market which has taken place here annually for the last 500 years. Temporary traditional wooden huts are erected, and visitors can buy trinkets, rural crafts, and typical Austrian food/drinks like hot mulled wine and roasted chestnuts. If you visit during Christmas Eve, don't miss the 'Turmblasen' which is a traditional feature with brass instruments playing chorale music from the city tower or the steeple of the church.

Interestingly, the Domplatz is accessed by three open arcade arches in the north, south, and west. These "cathedral arches" unite the cathedral with the Salzburg Residenz and St. Peter's Abbey to form a unique enclosed square measuring 101 meters long and 69 meters wide, with walls 81 meters high.

The square is dominated by the Maria Immaculata (Immaculate Mary) column, commissioned by Archbishop Sigismund von Schrattenbach and executed by the brothers Wolfgang and Johann Hagenauer between 1766-71. Modeled after similar columns in Vienna and Munich and constructed of marble and cast iron, the Maria Immaculata depicts the Virgin Mary enthroned on a mountain of clouds made of Untersberg marble and a globe. The central Marian figure is surrounded on four sides by allegoric figures representing angels, the devil, wisdom, and the Church. According to a plaque on the cathedral, the figure group shows reactions to the mystery of the Immaculate Conception—the angels are delighted, human wisdom vanishes, the envious devil growls, and the triumphant Church rejoices. When viewed from the center of the arcades at the back of Domplatz, the classicist column is positioned in the central axis of the cathedral and shows the central Marian figure surrounded by the angels on the cathedral façade and seems to wear the crown mounted on the building.

***SOUND OF MUSIC TOUR***
The Domplatz first appears in The Sound of Music when Maria exits it through the arches. It can further be seen during the "My Favorite Things" montage when Maria and the children scurry across the square in their picnic clothes.
Walking Tours in Salzburg, Austria