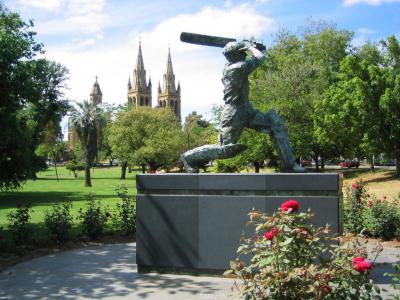 Don Bradman Statue, Adelaide
Adelaide and cricket go together like horse and carriage, i.e. really bloody well. Cricket fans visiting the city certainly wouldn't want to miss out on a tour of the Adelaide Oval. And when they do, they can't help noticing the Don Bradman Statue outside the stadium. Indeed, this nearly 2.5-metre sculpture, standing on a 1.5-metre stone plinth, is very difficult to miss.

Sir Donald George Bradman (27 August 1908 – 25 February 2001), often simply referred to as "The Don", was an Australian international cricketer, widely acknowledged as the greatest batsman of all time. The cricket legend as he was made Adelaide Oval famous in 1930 after a record-breaking performance. Bradman played for Australia for 20 years and his career test batting average of 99.94 has been cited as the greatest achievement by any sportsman in any major sport.

The bronze statue in his honour, sculpted by Adelaide artist Robert Hannaford, was unveiled on 25 February 2002, one year after Bradman's death. Although Bradman retired from cricket in 1948, he still remains one of the most talked about sports persons of the past century.

As a tribute to this hugely popular icon of Australian cricket, whose reputation grew far beyond the limits of the sport, the Australian Commonwealth Treasury also issued coins with Bradman's image.
Don Bradman Statue on Map
Walking Tours in Adelaide, Australia