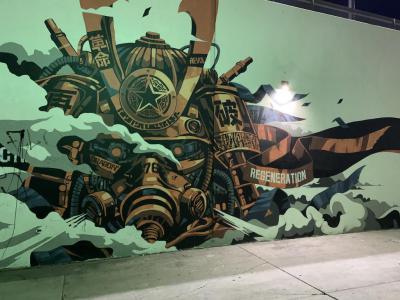 Dragon76 Mural, Long Beach
Dragon76 is a Japanese-born artist who lives in New York, and whose dynamic paintings enjoy much acclaim throughout the world these days. The concept of his style – passionate and energetic – is "the coexistence" of two opposites, such as past and future, stillness and motion, evil and justice. Often described as "soul touching", Dragon76's artwork constantly evolves.

One of his street art pieces, painted in 2016, currently adorns the backside of the Edison residential tower in Long Beach, and proves that part of the beauty of the street art lies in the fact that it is ephemeral.
Walking Tours in Long Beach, California