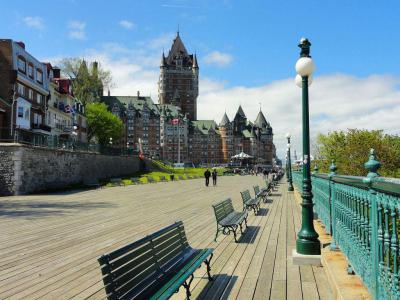 Dufferin Terrace (Terrasse Dufferin), Quebec City
(must see)
The Dufferin Terrace (Terrasse Dufferin) is a wide, wooden boardwalk wrapping around the front of the Frontenac Castle (Château Frontenac) towards the Citadel of Quebec. The abundance of gazebos and benches here, not to mention the panoramic views of the St. Lawrence River, the South Shore, and Orleans Island (Île d'Orléans), makes this place an equally loved leisure spot by both locals and tourists.

Remarkably, the use of wooden planks gives this whole thing an "air of summer", even in the middle of winter when the famous Terrasse Dufferin Slides, a huge (150-metre/490-foot) toboggan on the south end of the terrace, is open during the Quebec Winter Carnival (Carnaval de Québec), from late January to mid-February.

The promenade was built in 1838 and was first known as Durham Terrace. It was enlarged in 1854 and then remodeled, in 1878-1879, under the direction of the then Governor General of Canada, Marquess of Dufferin, whose name it now bears. Each of the six gazebos found on this boardwalk has a name – going north-south, it is Frontenac, Lorne, Princess Louise, Victoria, Dufferin, and Plessis.

Underneath the terrace is the archaeological site of Saint Louis Fort and Castle (Château Saint-Louis), featuring the remains of the former seat of power occupied by the French and British governors of the territory from 1620 to 1834 (when it was destroyed by fire) – it is now open for viewing through the three specially built-in peek-a-boo windows.

Also, at the southern end of the terrace is the entry to the Governors' Promenade, a walkway to the Plains of Abraham built into the cliffs below the Citadel. Nearby, a few old guns recall the strategic position of the place once guarded by artillery batteries.
Dufferin Terrace (Terrasse Dufferin) on Map
Walking Tours in Quebec City, Quebec