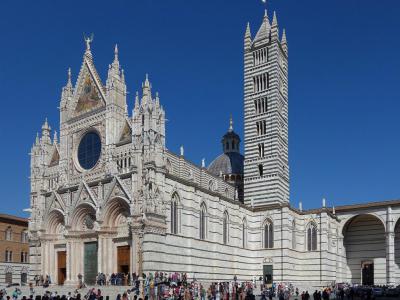 Duomo di Siena (Siena Cathedral), Siena
(must see)
Siena Cathedral is one of Italy's most exquisite Cathedrals. The Cathedral was completed in 1263 on the site of a church dating to the 9th century. This stunning Cathedral has a transept, a dome, and a bell tower and features artwork from Italy's most prominent artists.

The dome has a hexagonal base and supporting columns. Famous sculptor Gian Lorenzo Bernini designed the lantern on top of the dome. The bell tower features six bells; the oldest bell was cast in 1149. The Cathedral was built with white and dark-colored marble in alternating stripes. White and black are the colors of Siena and represent the white and black horses of the city's founders, Senius and Aschius.

Giovanni Pisano, Nicola Pisano's son, created the west facade with carved sculptures of the prophets and philosophers. The original sculptures are now housed in the Cathedral Treasures Museum, while copies are displayed in the facade.

The mosaic inlay floor is the Cathedral's prized possession and has been called the most beautiful floor ever made. Fifty-six inlay panels were drawn by various Sienese artists and transposed into the marble mosaic inlay.

The most celebrated Italian artists created artwork on display in the Cathedral. Donatello created a statue of St. John the Baptist in the St. John the Baptist chape. Michelangelo carved four statues, St. Peter, St. Paul, St. Pius, and St. Augustine, for the Piccolomini altar. Gian Lorenzo Bernini carved the statues of St. Mary Magdalen and St. Jerome in the Chapel of the Vow. Nicola Pisano carved the pulpit that can be seen in the north transept.

A copy of Duccio di Boninsegna's stained glass window is on display. The original is in the Cathedral Treasures Museum. Several other notable stained glass works beautify the Cathedral.

The Cathedral Choir features eight wood-carved inlays by Fra Giovanni da Verona. Underneath the choir, a narthex, long filled with rubble, was excavated between 1999 and 2003. The excavation uncovered 13th-century frescoes depicting scenes from the life of Christ.

Why You Should Visit

The Siena Cathedral is regarded as one of the most beautiful Cathedrals in Italy and shows the pinnacle of Siena's beauty and commitment to artistry. Statues by Donatello, Michelangelo, and Bernini are just some of the artworks on display.

Tips

Inside the main entrance, there's a sign with a map of the Cathedral's floorplan. Take a photo of this map with your phone, so you don't get lost as you explore the massive Cathedral and take in all the sights.

The Cathedral is open until 7 pm and is less crowded in the early evening. The floor is only uncovered during specific dates; check online to see if the floor is uncovered during your visit.
Duomo di Siena (Siena Cathedral) on Map
Walking Tours in Siena, Italy