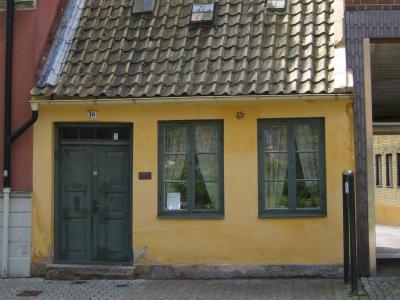 Ebba Hus (Ebba's House), Malmo
Ebba Hus (Ebba's house) is the smallest museum in Malmo. This street house was built some time in the 18th century by an ordinary family, and as such represents an ideal example of typical household in Malmo of that period.

The last resident, lace maker Ebba Olsson, lived here for most of her life. Her grandfather, city surveyor Jöns Olsson, bought the house in 1873, and her father, Olof, also a city surveyor, inherited the property in 1911. The family consisted of Olof and Anna Olsson and their children Ebba and Thure. Ebba lived in this home together with her parents until the last one of them died in 1961, upon which she continued living here by herself.

The surrounding cityscape changed eventually, with many of the surrounding buildings demolished during the 1960s, but Ebba Olsson refused to sell. She lived in the same house, with an outdoor toilet in the yard and cold water until 1984, when she finally moved to a modern apartment. Eventually, she and her sister-in-law donated the house to Malmo Museums.

The latter sought to use the property for educational purposes – to demonstrate what life was like back in the day. When Ebba died in 1989, the museum bought her furniture and placed it in the house where it originally had stood. In 1991, Ebba's house was opened to visitors. The interior, complete with all commodities and furniture, as well as the wood stove and outdoor toilet, all date back to the 1910s and are well preserved in their entirety.
Sight description based on Wikipedia.
Ebba Hus (Ebba's House) on Map
Walking Tours in Malmo, Sweden