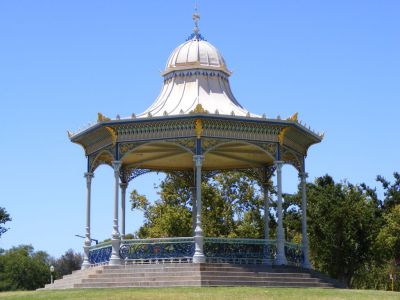 Elder Park Rotunda, Adelaide
Back in the early 1880s, the Adelaide City Council proposed to dam the River Torrens in order to create a lake and construct a public esplanade to the west of City Bridge. Subsequently, Sir Thomas Elder, a wealthy businessman, pastoralist, parliamentarian and philanthropist initiated plans for a rotunda to be added to the lake side, for public enjoyment. In 1881 he wrote to the council from Scotland, offering to donate one.

Ultimately, Torrens Lake was created in 1881, transformed from a series of muddy waterholes into a navigable body of water, when the weir was opened. The rotunda, octagonal in form, 24 feet in diameter, with spandrels and canopied roof with overhanging eaves, surmounted by a domed cupola and bold finial with cast-iron railings, was fabricated by MacFarlane's Saracen Foundry in Glasgow and shipped over from Great Britain in 1882. The task of erecting it was taken by Charles Farr, who, for that purpose, raised the floor some 18 feet above the original ground level with approach steps of granite.

The Elder Park Rotunda was officially opened on 28 November 1882, with 2,000 guests attending the ceremony. A specially composed piece of music, The Rotunda March, was played at the event by the Adelaide City Council Brass Band.

Ever since then, the rotunda has been a focal point for recreation and entertainment in Elder Park, and a dominant, decorative element of the Torrens Valley, intimately tied to its beautification. The structure offers splendid panoramic view of the Lake, with a fountain and special lighting display, and for many years has been the venue of Saturday concerts. If you stand in the exact centre of the rotunda and clap once, the listening experience will surely surprise you!
Elder Park Rotunda on Map
Walking Tours in Adelaide, Australia