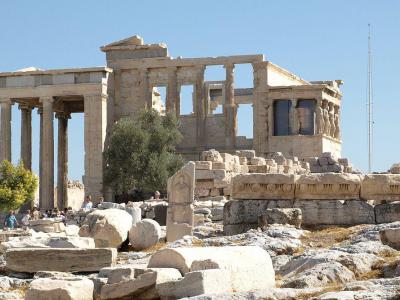 Erechtheion, Athens
(must see)
Constructed between 421 and 406 BC, the Erechtheion was dedicated to both Athena and Poseidon, two powerful deities of the Greek pantheon. According to myth, they competed to provide the city with a valuable gift. Poseidon, the sea god, struck the ground with his trident, creating a saltwater spring, while the wise Athena planted an olive tree that sprouted. Her gift was deemed more beneficial, and she became the city's patron goddess, although it is said that the temple stands on the very spot where Poseidon left his trident marks.

A sacred sanctuary and a focal point for religious rituals in classical Athens, the unique monument is renowned for its graceful and highly adorned Ionic architecture. The spacious rectangular cella within comprised three chambers. One of these held the sacred olivewood statue of Athena, while the other two were dedicated to Poseidon, symbolizing their reconciliation after the legendary conflict.

The cella was encircled by porticoes on the north, east, and south sides, with the south one famously known as the Porch of the Caryatids, featuring six imposing female figures seemingly supporting the porch roof on their heads — a distinctive feature unmatched by any other temple. These maidens, however, are replicas, as the original sculptures are now housed in the Acropolis Museum to protect them from further deterioration in Athens' harsh climate.

Over the years, the Erechtheion complex has served various purposes, including functioning as a harem for the wives of the Ottoman commander in 1463. It suffered extensive damage when a Turkish shell struck it during the War of Independence in 1827. Today, it stands as a UNESCO World Heritage site, a testament to both the architectural and mythological richness of ancient Athens.

Tip:
Consider taking a guided tour to gain a comprehensive understanding of the site's history and significance. If you opt to explore independently, plan to visit in the morning and be sure to carry water, as refreshments are not available inside.
Walking Tours in Athens, Greece
Useful Travel Guides for Planning Your Trip
---